Last year May, I chopped off quite a bit of my hair and wore it natural. If you told teenage Alyx, that one day I would wear my hair short and kroes, there'd be sheer horror all over my face.
I've always had a soft spot for short hair, but never imagined I'd ever wear it any other way but straight. I'd worry about how I'd keep my hair straight and "pretty" if I did cut it. In fact, I was in uni when I chopped it for the first time, just like Rihanna.
It didn't really look like Rihanna (lol, obvs) but at least I went for it.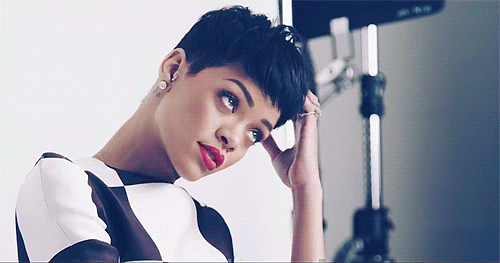 The natural hair journey can be a long one. It wasn't always explicit but it was implied that my hair wasn't good enough in my community. I was told to relax, roller-set and blow out my hair for "growth" and "health", when it was the last thing I should've been doing.
But in 2017, I got tired of having big hair.
The plethora of lightskin, 3a-4a curl having people who got visibility in the natural community, really made me evaluate how I felt about having this mane. On the one hand it was the first time my hair was seen in a positive light, but I was also taking up space in a way that could be harmful.
(Sidenote: dark-skinned black women with 4C and above hair deserve way more representation in a community built around black women. Also, people can do whatever the hell they want with their hair from weaves to wigs, etc)
I had been natural for about three years and suddenly, I wanted to get rid of it all. I'd also been obsessing (still am, tbh) over models like Lineisy Montero and Samile Bermannelli. Women who kinda looked like me (#thebeigecurse) and wore their natural hair in ways I needed to see when I was 16.
And so I did. I found a hairdresser in town thanks to a Twitter user. The experience itself was mind-blowing. You see, it was the first time I walked into a salon and was told my hair was beautiful.
In all my visits to the salon, relaxer burns and all, my hair was a chore to hairstylists.
"Don't you rather wanna relax it?", a question that didn't really imply that I had much of a choice.
I sat in the salon chair and reflected on this fact. The chop happened in two visits. I finally had unprocessed short natural hair. No relaxed bits, no hair-dyes and no split ends. I had a fresh start and aimed to take care of my hair properly thanks to Janine Jellars' e-book, The Natural Newbie Guide. 
I discovered a few things, one being that short hair is really nice to wash in shower and the other is that my natural hair grows really fast. The no-chemical route really did the damn thing.
My friend Kyla, mentioned once that hair can carry a lot of trauma. It's August, my birthday month and I've had a wild year filled with anguish.
So I've booked an appointment to get my hair cut. It's only a trim but I'm saying goodbye to split ends and the last twelve months. And hello to some healthy hair.