You've watched The True Cost and seen countless reports of how poorly workers are treated while crafting fast fashion for big brands.  You've seen the Pinterest tabs, lusted over organic cotton shirts and made in South Africa garments. It's time. You want to build a more #ethical wardrobe.
(Sidenote: the fast fashion industry thrives on cheap labour but boycotting big corps isn't always effective and doesn't really help the workers. If you can, find out how to donate time/resources to unions who are actively doing work on the ground and ensuring that workers have a voice.) 
Here's how you can build your own sustainable wardrobe.
Use what you already have
If you're consuming less, you're already doing a good job. You don't need to throw out every fast fashion item you bought if it still works for you. Consuming less means your closet is somewhat sustainable. Easy enough, no?
Swop or purchase items from friends
Need an additional item to your wardrobe? See if you can swop or buy from your friends. I did this before from a few friends and you both win. Someone you know gets cash and you get a new item to wear. This also helps if you're not straight-size and still want access to fun, fashionable items without breaking the bank.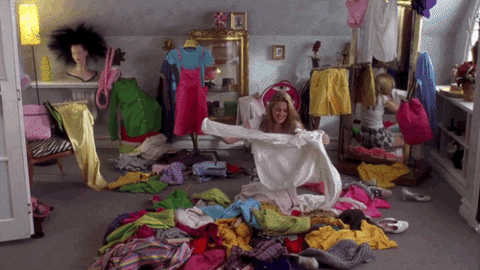 Go thrifting with your friends
Ding ding ding! You already know that being able to thrift is a good way to save money and find cute outfits. However, thrifting is becoming less and less accessible to the people who need it. Why, you may ask? Because some middle-class gals are sourcing for their overpriced online boutiques without any thought for people who need these spaces. Please be more conscious about where you're thrifting, if you decide to do so.
And finally,
Support your local designers
I personally love checking out local clothing labels/designers and seeing what they have on offer. Whether they say they're ethical or sustainable, the clothes are most likely made in-house and boosts the local economy. South Africa has a lot of tailors, seamstresses and a textile industry that deserves our support. However, everything in your wardrobe doesn't need to be pricey and designer, but if you can find staple pieces you love (white shirt, black pants or a denim jacket etc) then do so.
Let me know if this helps!
-A
SaveSave
SaveSave
SaveSave